Snack:
Valentine Sugar Cookies
Game:
Tic Tac Toe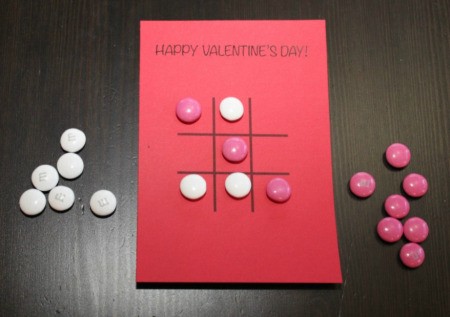 http://www.thriftyfun.com/Candy-Tic-Tac-Toe-Valentines.html
The kids paired up and we handed each of them a baggy of M & M's. Each baggy had nine M & M's in two different colors. We also handed each pair one tic tac toe board. They could play as many times as they wanted for about 5 minutes and then eat their M & M's.
Game:
Left / Right Game Story
http://www.culdesaccool.com/wp-content/uploads/2013/01/Valentine-LEFTRIGHT-Game-Story.pdf
We passed out one sucker at the start and added some in so more kids got a chance to be involved.
Crafts:
Valentines!
We put out supplies to make five different Valentine's Day cards, or the kids could use their creativity and create their own. Here are the cards we made:
http://lovekrissymarshall.blogspot.com/2012/01/easy-valentines-card.html
http://blissfullydomestic.com/life-bliss/purr-fect-kitty-valentines/29936/
http://www.paper-source.com/cgi-bin/paper/kits/card-kits.html
The kids made the one with the two hearts holding hands and the four hearts put together to make a flower.
http://growcreative.blogspot.com/2013/01/watercolor-resist-valentines-cards.html
We learned the kids needed to push hard with the white crayon in order for this to work well. Our watercolor paints are from S&S Worldwide, and I am not happy with how pale the colors are. Crayola watercolors are so much more vibrant and I think their cards would have turned out better if we had used those.
Activity:
Valentine Mad Lip
http://www.culdesaccool.com/wp-content/uploads/2013/01/Valentine-Madlip1.pdf
Activity:
Valentine's Day Word Search
http://www.momsandmunchkins.ca/2013/02/13/printable-valentines-day-activities/
Game:
Cupid's Arrow
http://room-mom101.blogspot.com/search/label/Valentine%20Ideas
We used a Valentine's Day bucket and heart shaped bowl as the targets. Each child gets one straw and five q-tips. Standing behind a marked line they need to try and "shoot" their q-tip into the bucket or bowl.
Evaluation:
This is always an easy program to set up since it is mostly crafts. The kids loved the tic tac toe game, especially since they got to eat the M & M's. The Left/Right Game Story was way too hard for them. They go so excited and noisy passing the sucker that they couldn't hear when it was time to switch directions. We ended up dropping this from the second session and just handed out suckers to each child as they left. At the first session we handed out suckers to every kid after the game. Also at the second session we did the MadLips together as a group while they ate their snack and then the kids had the option of doing it again later in the program. The Cupid's Arrow game was way too crazy as the early session so we didn't use it at the second session. The boys especially liked it, but the q-tips went EVERYWHERE! Luckily the kids helped pick them up before they left.
Attendance:
26/14