Experiment:
Square or Triangle?
From pg. 170 of Steven Caney's Ultimate Building Book
Divide kids into groups. Hand each group seven straws and two lengths of yarn. Kids cut straws into seven equal sizes. On one length of yarn they string four straws and tie a knot connecting the straws into a square. On the other length of yarn they string three straws and tie a know connecting the straws into a triangle. We then had the kids test the stability and strength of each shape. The experiment showed that triangles are the strongest most stable building element.
Free Build Time: Marble Run
We put out toilet and paper towel tubes, double stick tape, and sheets of cardboard and let kids create anything. Most chose to create a kind of marble run. We had a volunteer manning a hot glue gun to affix the tubes after the kids got them positioned how they wanted them.
Free Build Time: Toothpick/Marshmallow Constructs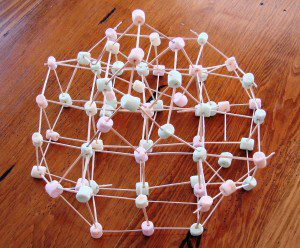 Put out bowls of toothpicks and piles of mini-marshmallows. Kids could create whatever they wanted.
Free Build Time: Lego Bricks
Evaluation:
We were pleasantly surprised with the number of kids who chose the marble run and toothpick sculptures over the Lego bricks. Some of the marble runs were quite elaborate. A few of the kids worked together and created very interesting and unique toothpick sculptures. This was a very easy program to put together in honor of National Engineering Week and one that kept the kids occupied the whole time. One kid even left the program and showed his dad the square/triangle straw experiment and explained how the triangle was a stronger shape. Success!
Due to poor, icy weather, our evening program was cancelled and the library closed early.
Attendance: 20